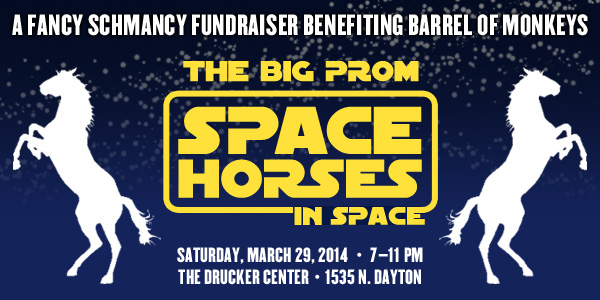 A Fancy Schmancy Fundraiser Benefiting Barrel of Monkeys
Big Prom: Space Horses in Space
Saturday, March 29, 2014 from 7 – 11 pm
The Drucker Center, 1535 N. Dayton Ave. in Chicago
A magical improvement to the best (or worst) night of high school.
Barrel of Monkeys' 12th annual fundraiser features light appetizers, adult beverages, live music and signature Monkey entertainment. This year's theme, "Space Horses in Space," comes from a student-written story that will be performed at the event.
Embracing this theme, the event will include a space horse-themed photo booth, a live band: Diego Sol & The Metronomes, a DJ: DJ Bouncy Castle, dancing, a raffle and silent auction, a king and queen crowning ceremony and activities with company members.
Event Sponsors include Katten Muchin Rosenman, LLP, Punchkick Interactive, and Ernst & Young. Liquor Sponsors include Jim Beam (the "Jim Beam me up Scotty" cocktail) and Salute American Vodka, our Fancy Schmancy Ticket cocktail sponsor (see details below…)
Tickets: $50 individual ticket; $75 for Fancy Schmancy ticket (includes signature cocktail and amazing LED light-up collectible goblet); $750 for table of ten (includes Fancy Schmancy ticket perks for all). Purchase tickets here.
Please call 773-506-7140 or .(JavaScript must be enabled to view this email address) for more information.